List of Verizon Cellular and Data Drop Incidents on DC Metro:

An Updated List of Verizon Wireless Dropped Cellular and Data Connections within Washington DC's Metro System
---
Last Update: 02/20/2013
This list is intended to provide a consolidated reference to a series of posts, messages, and other observations as to the many Verizon Wireless cellular and data drops on Washington DC's metro rail system.
[ Wireless Notes Home | Interpage Home | Criteria for Inclusion | Disclaimer | Criteria for Inclusion | WMATA 7000 series comfort issues | WMATA/DC Metro Service/Infrastructure Problems | Cellular Comparison of US Carriers | Verizon Cellular Dropped Call List | Verizon Data Call Drops | Sprint Dropped Call List | AT&T Wireless Dropped Call List | T-Mobile Dropped Call List | Nextel Drop List | Contact us
---
Tell your elected officials what you think!
Use LobbyByFax(sm) to instantly send a free fax from the web to your elected Congressional and State-wide representatives supporting telecommunications, Internet net-neutrality, transportation and other issue s!
Some of the current LobbyByFax alerts include:
For a complete list of all current LobbyByFax alerts, please visit the Interpage LobbyByFax.com site and click the start button on the main page, or click here for a summary page.
---
In the past, posts made to a variety of cellular groups and e-mail to the Wireless Notes page have indicated that the Verizon properties (Bell Atlantic Mobile, GTE, Airtouch, Primeco, and some ex-AllTel l properties) offer (based on drive tests and empirical experience) a generally higher level of service, fewer drops, and superior voice quality as compared to other wireless carriers (AT&TWS/Cingular, Sprint/Nextel, et. al.).
However, unfortunately the high degree of reliability and well-planned/well-implemented coverage does not seem to be in evidence in Washington DCís metro rail system. This potentially could be the result of Verizon Wireless functioning as the sole provide r of service within the metro rail system or as a result of their early attempts at implementing analog-based coverage and their failure to properly update their infrastructure so as to accommodate the vagaries of digital coverage subsequent to the discon tinuation of analog service in late 2007. As a result, there are numerous drops, fades and other problematic areas within the metro rail system which is uncharacteristic of Verizonís above-ground surface, as was atypical of its performance in other underg round systems such as San Franciscoís BART, the East River and Hudson-Pennsylvania railroad tubes, the Baltimore rail tunnel and others.
The map below is intended to be a visual companion to the Verizon data droplist and the Verizon cellular droplist with respect to drops specifically within Washington DC's metro rail system.
---
The criteria for a drop being "worthy" :) of getting posted are:
Drop occurs at least 3 times traveling in the same direction (i.e., Eastbound on a given rail line)
Drops occur over a period of more than a month, e.g., if a drop is experienced on 05/01/2005 it still needs to drop on 06/01/2005 for it to be posted.
Drops are moving drops in areas of strong coverage, i.e., these aren't "I can't get coverage when I sit in my living room corner" situations, but areas where there is otherwise good coverage and calls drop for no apparent reason.
Ordering Note: The following map is essentially a modified version of DC Metro's publicly available map.
---
Disclaimer/Note: The authors have nothing to do with Verizon or DC Metro other than as customers. While we will try to keep the map and associated Verizon Wireless droplists current, you should test them out for yourself and not use this as a dispositive and authoritative source of information as to Verizon's cellular and/or data service (or lack thereof) with DC Metro. In other words, these are just our and/or other's observations -- we try to be accurate, but we make no represe ntations other than what we have observed (and if others notice we are wrong about a given drop, please mail us so we can test the drop and modify the list accordingly.)
---
Verizon Wireless Cellular and Data Washington DC Metro Drop Map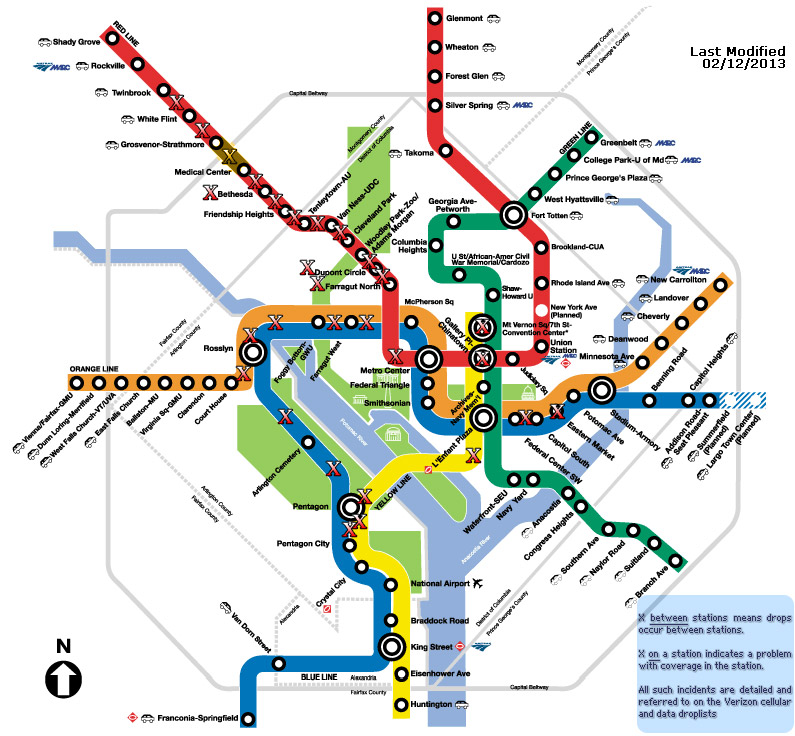 ---
Contacting WirelessNotes.org

We may be reached via:
E-Mail: Please mail to abcwireless@interpage.net, removing the first three letters of the alphabet from the name/address.

Phone: +1 (802) 316-5000 during Business Hours.
---
Back to Main Wireless Notes Page

Last modified and ©: 02/20/2013